Complete our survey on the Government's proposals for the election mechanism of the HKICPA Council (1 April 2022)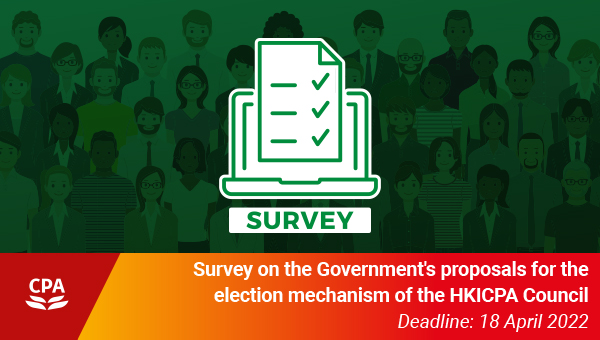 Dear members,
Subsequent to the Secretary for Financial Services and the Treasury's blog post on
8 March with regards to reviewing the Institute's Council election arrangements, the Institute has been making every effort to keep members informed about developments.
The Institute is organizing a members' forum on 8 April to provide members with a better understanding of the Financial Services and Treasury Bureau's (FSTB) proposed changes, and to better gauge members' views on the matter, the Institute is launching a survey to collect the views of its members regarding the FSTB's proposal for the election mechanism of the Institute's Council. You are encouraged to study the information provided in the preamble and complete the survey to let us know your views on the proposals by 18 April.

The survey can be accessed using this link (login required). If you have forgotten your membership login ID or password, please follow the recovery steps detailed here. The survey does not have to be completed in one go and your progress will be automatically saved, allowing you to log in again to complete the survey or to change your answers. Once the survey is completed and submitted, the link cannot be used again.

Thank you for sharing your views with us. To help you keep abreast of the developments, our webpage is updated regularly with the latest news.
Yours sincerely,

Hong Kong Institute of Certified Public Accountants
Disclaimer: Some sections contain information from outside sources. We endeavour to link to reputable sources but the Institute is not responsible for the accuracy of the content and the content does not necessarily represent the views of the Institute.
This email together with the file(s) transmitted is intended solely for addressee(s) only and may contain confidential or privileged information. If you received this email in error, please contact the sender and delete it together with its attachment(s) from your computer(s). You should note that the views expressed in this email are those of the author and do not necessarily represent those of the Institute. The recipient should check this email and all attachments for the presence of virus. The Institute will not accept liability for any damage caused by any viruses transmitted with this email.
Manage communication preferences | Privacy policy | Personal information | Contact us
Copyright © 2022 Hong Kong Institute of CPAs. All rights reserved.