Join the members' forum on reviewing the election arrangements of the Council (28 March 2022)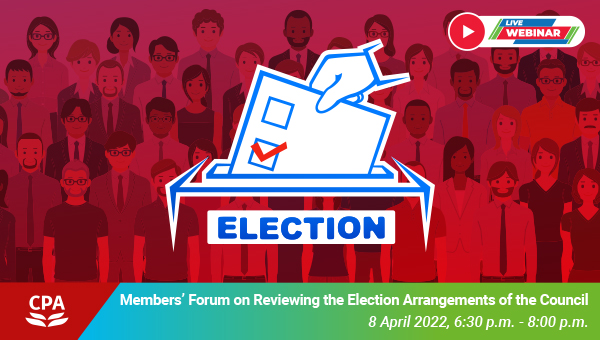 Dear members,
Council election is an important governance provision of the Hong Kong Institute of CPAs. The current arrangement has been in place since its establishment and there have been discussions about its improvements in the past years. The Secretary for Financial Services and the Treasury, Christopher Hui, published a blog post on 8 March with regards to enhancing the Institute's Council election arrangements. It outlined the consultation process underway and the key areas under review. In this connection, the Financial Services and Treasury Bureau (FSTB) will brief the Panel on Financial Affairs of the Legislative Council on 4 April about the proposed enhancements on the Institute's election of Council members.
The proposed changes will affect all members of the Institute and it is therefore important your views are obtained and consulted. A new webpage has been set up on the matter, which will bring together relevant information to help members keep abreast of the recent developments.
To provide members with a better understanding of the FSTB's consultation findings and the proposed changes, the Institute will host a members' forum on 8 April, where Under Secretary of the FSTB, Joseph Chan, and the Legislative Councillor of the Accountancy Functional Constituency, Edmund Wong have been invited to discuss the preliminary proposals. Register now.
After successful registration, members will receive a confirmation email and the specific link will be available nearer to the event date to access the webinar.
This forum will also be recorded and made available as an e-Seminar for those unable to attend.
Yours sincerely,
Hong Kong Institute of Certified Public Accountants
Disclaimer: Some sections contain information from outside sources. We endeavour to link to reputable sources but the Institute is not responsible for the accuracy of the content and the content does not necessarily represent the views of the Institute.
This email together with the file(s) transmitted is intended solely for addressee(s) only and may contain confidential or privileged information. If you received this email in error, please contact the sender and delete it together with its attachment(s) from your computer(s). You should note that the views expressed in this email are those of the author and do not necessarily represent those of the Institute. The recipient should check this email and all attachments for the presence of virus. The Institute will not accept liability for any damage caused by any viruses transmitted with this email.
Manage communication preferences | Privacy policy | Personal information | Contact us
Copyright © 2022 Hong Kong Institute of CPAs. All rights reserved.